Final Thoughts – Brad
God draws those He needs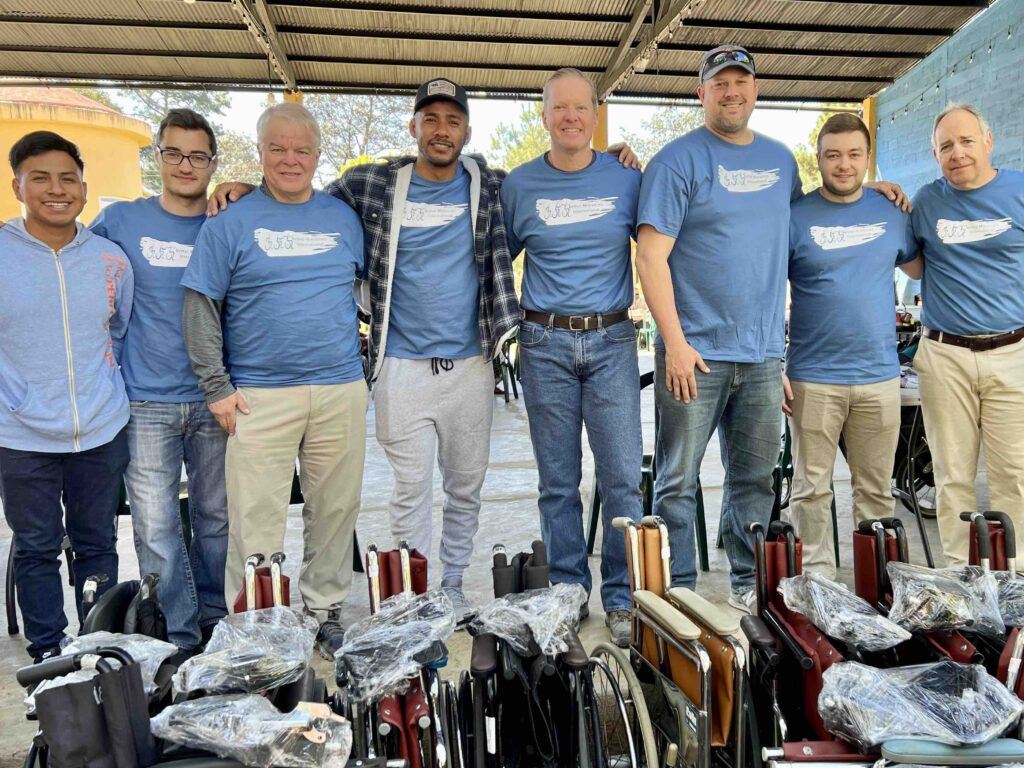 I'm always amazed at who God brings to each team that travels to Guatemala.  Kind of like fundraising, I'm always a little overwhelmed by building the team.  Then I remember, it's not me building it, but God.  This year was truly a wonderful team of men.  Sharing the team building with Bill was worked out so well.  Bill brings such a calm, methodical heart to everything we did.  I feel like I learn a lot from watching him work and lead.  Having Noah and Oliver travel with us was so good.  Seeing a dad and his sons work together and build memories is priceless.  Oliver and Noah added so much to the week.  They each brought distinctive parts of their personalities to help.  Oliver is a lot like Bill in that he observes a situation but brings a depth to his ultimate analysis and quiet work ethic.  I loved getting to hear Noah's passion for entrepreneurship.  He was patient in helping me learn more about how to use social media for my drone business.  He really took time to get to know Juanito's son Danny.  They really built a friendship.  Noah always took time to play with the kids and speak to them in Spanish.  Having Nino go with us from Honduras was an unexpected gift for me.  He has such a great heart for people and kids, and his Spanish skills came into play many times.  Having Matt go from Louisville was encouraging to me.  Our personalities are so similar and having his desire to see clean water come to Juanito's church was a key part of the week.  He was very patient in the process, and it paid off.  I'm so grateful for his experience he brought from his travels to Brazil and a servant's heart.  Dave wanting to come on the trip this year was an amazing blessing as well.  Going from being a fellow co-worker at UPS and Monday Bible study member, to now having served together on a mission trip has helped us grow so much closer and I'm excited to see what God is going to do in his life with what he saw this week.  He is so kind and there's a depth that's truly on display in his poetry.  I've always said I could never write poetry like he does.  Dave sees a situation and somehow draws insight that makes me realize I didn't see the whole situation.  Thank you Dave for helping us appreciate this week from a viewpoint we never would have known.
Home build
I'm thankful for the Bethel team pouring the foundation before we got there.  It is a huge physical task, and as I'm getting older, I appreciate it even more.  Each time we build a house, it's another family that has had the trajectory of their life changed forever.  I'm always impressed by the fact the family sees it as a gift from God, not our team.  They've all been praying for this day for so many years.  It also reminds me of how many families are still waiting. They too have been praying.  The answer has not yet come.  For many, it never will.  But, with your generosity, we can help many more.  We can be the hands and feet of Jesus to them.  Bill mentioned how much he enjoys building a house.  In such a short period of time you bring real change to someone's life.  I agree.
Wheelchair Distribution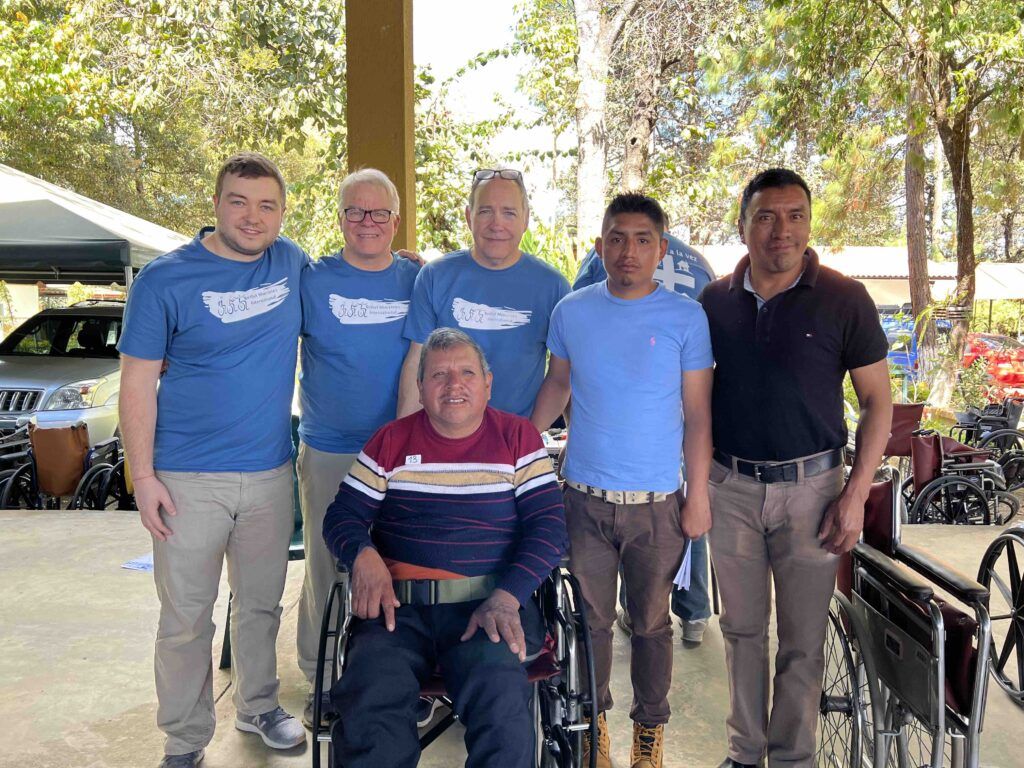 This is always a special day for me.  First, because I collect wheelchairs in Louisville, it gives me a chance to see the ultimate destination for those chairs.  Seeing the people sitting in them brings closure for me.  It spurs me on to come back home and collect more.  Dave, Matt and I are ready to find more places who have chairs needing a home.  If you know of anyone in your town who works in a health care facility or home, please let us know.  I have a trailer.  I'm happy to go where needed.  The second reason I love distribution day is because Bethel takes regular people like us and allows us to help fit a person with the chair they receive.  I always feel a little inadequate at the beginning.  "What do I know about fitting someone with a chair?"  What I ultimately realize is with the guidance and care of Bethel, it doesn't really take a lot of skill.  It just takes a little patience and heart to see someone be comfortable.  The ultimate reason I love this day is because I get to be a part of helping people who the world sees as having no value, to help them understand they are of the highest value to God.  He loves them as much as He loves me.  He has dreams and a purpose for them, just like me.  They are the "least of these" and God has made it perfectly clear in the Bible that these are the kind of people He values the most.  They are humble of heart, and grateful to Him for what they receive, even though the world looks down on them.  I leave encouraged, but also convicted.  I need to take the time where I live to see these people who are around me every day.  I pray, "Lord, help me slowdown in life, see those I need to see, and help in any way you want."
Stoves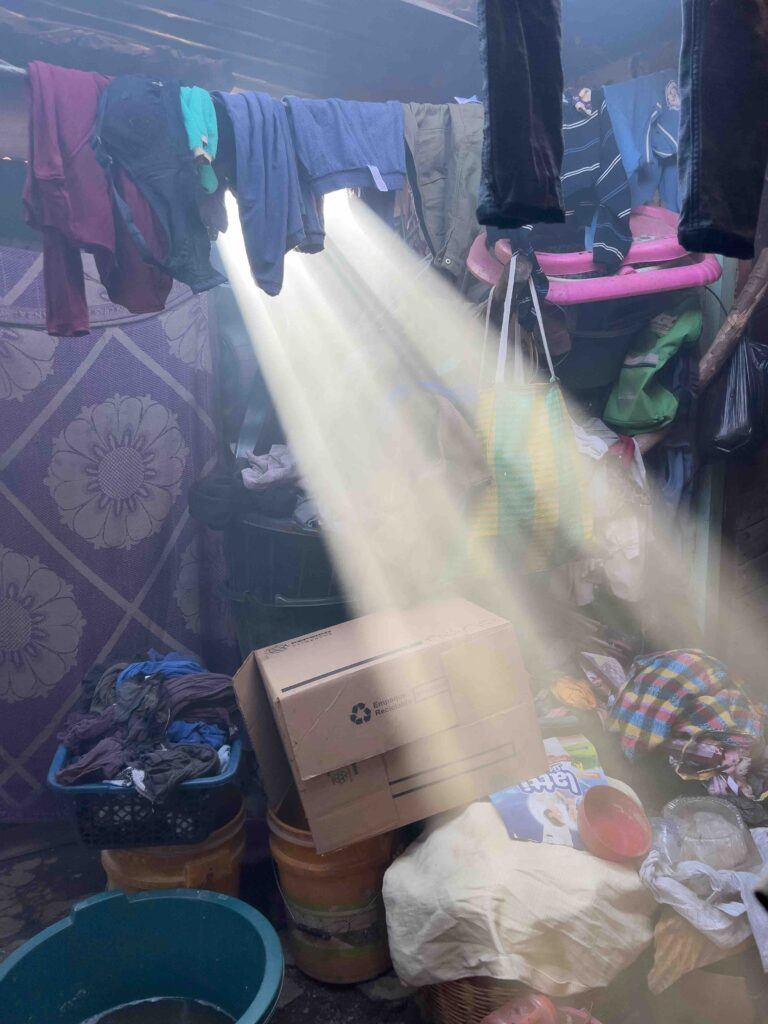 I'm always amazed at how much of a difference an ONIL stove can make in someone's daily life.  For $220, we can reduce the amount of wood necessary for people to cook and boil water, but we can help their daily health as well.  The ONIL stove burns 70% less wood than a traditional fire.  So, less deforestation and time gathering wood.  This year, we walked into a home and were overwhelmed by the smoke and soot in the air.  I looked around and saw the blackened metal ceiling, realizing that this family's lungs probably looked like that inside.  I know how my own children would be affected.  These families deserve the same.  For such a small investment, real change can come.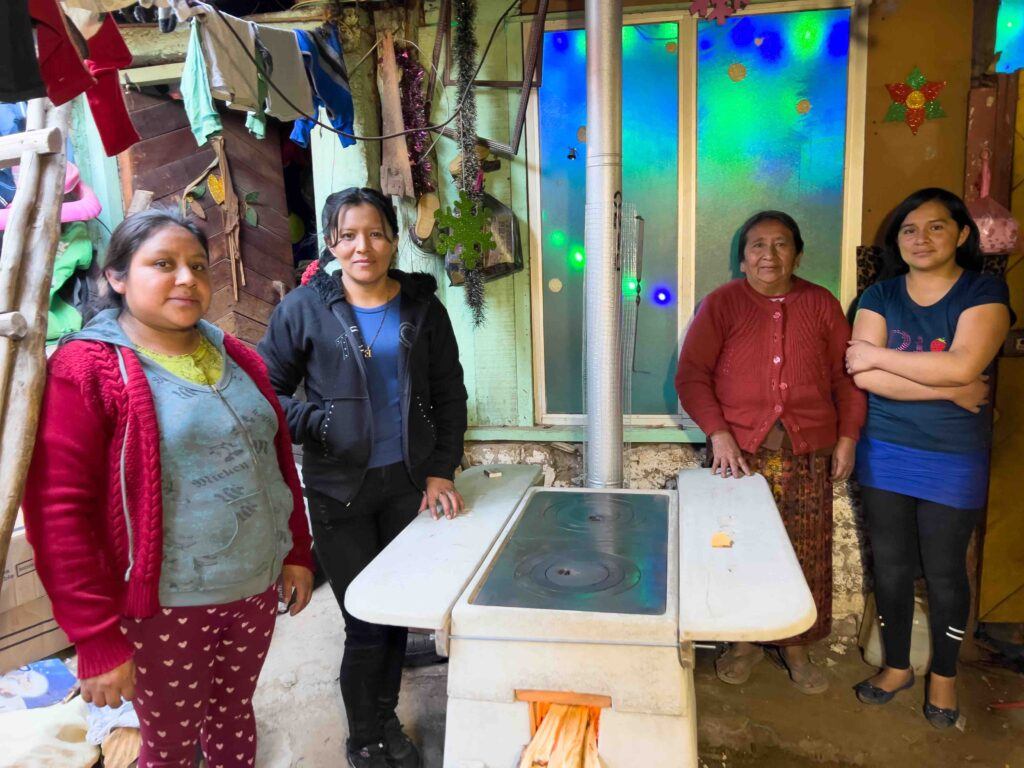 Fundraising
I've always been honest that fundraising is my least favorite part of the trip.  I'm always intimidated when we begin the process.  I must remember the old saying, "How do you eat an elephant?  One bite at a time!"  There is a point in the beginning that I have to confess my fear to God and trust Him with the process.  It's His trip.  They are His people.  The blessings come from Him.  Therefore, if He wants us to do projects, it's His Spirit that will lead people to help us.  God has never let me down, and I'm always embarrassed when I look back on my hesitancy.  He owns everything.  All the money is His.  He puts a desire in people's hearts to help.  So, to everyone who helped us this year, I want to say "thank you".  Thank you for partnering with us.  Thank you for sacrificing.  Thank you for being generous.  We could not have done it without you.  From purchasing a bed for someone who sleeps on a dirt floor, to building a home for a family in need, to bringing clean water to a group of people.  You allowed us to accomplish so much.  I hope you will consider helping us again in the future.  We need you.
Bethel Staff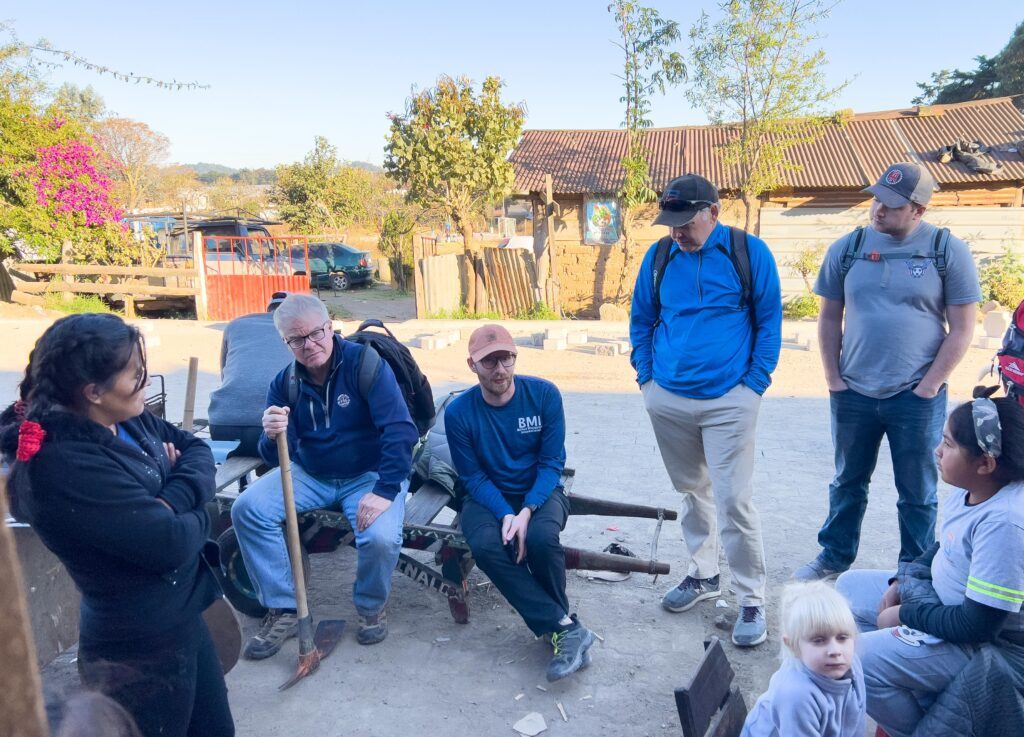 I want to thank Ben and Emily from
Bethel Ministries International
for making this an amazing trip.  We all joked how their job is similar to a Cub Scout Den Leader.  For a week, they are managing projects, coordinating travel and appointments, feeding us and keeping us out of trouble.  It's a 24/7 job.  In addition, they did it while caring for their two daughters.  I'm thankful for their attention to details.  Seeing them love on the people of Guatemala is heartwarming.  The ministry is in good hands.  I'm already looking forward to next year.  Also, thank you to Nick and Izzi Frey.  They are such good friends from Kentucky, and seeing them answer God's call on their family's lives to move to Guatemala almost five years ago, and having their son Jeremiah with them is truly amazing.  They serve with such passion.  It was good to see them again and watch them work at the wheelchair distribution.  Izzi coordinating the recipients, and Nick spending so much time to fit the little children in their specialty chairs.  He was like a craftsman with his tools of the trade.  I know there are so many other people behind the scenes.  The people in the wheelchair shop and  administration who make it all happen.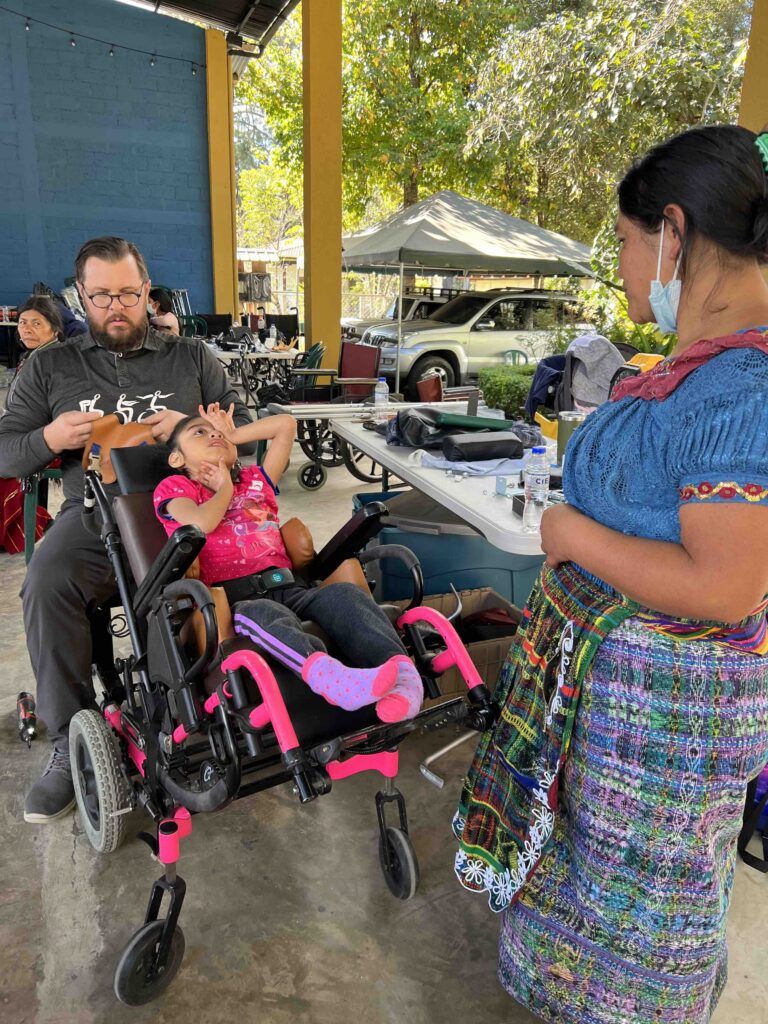 Home Visits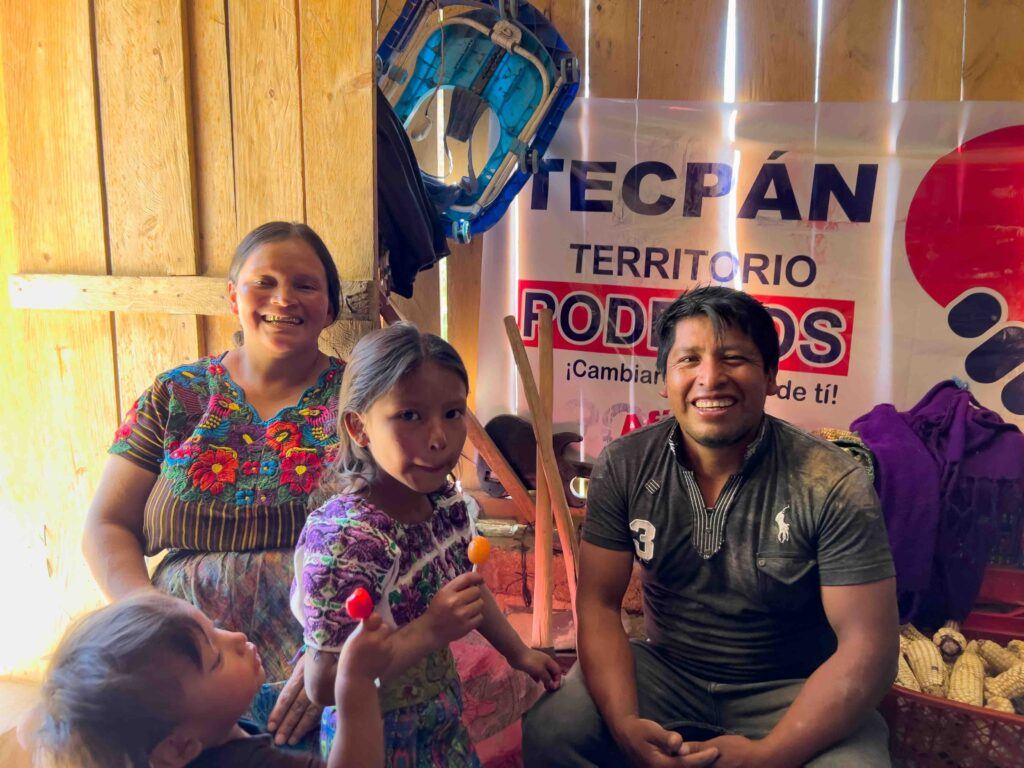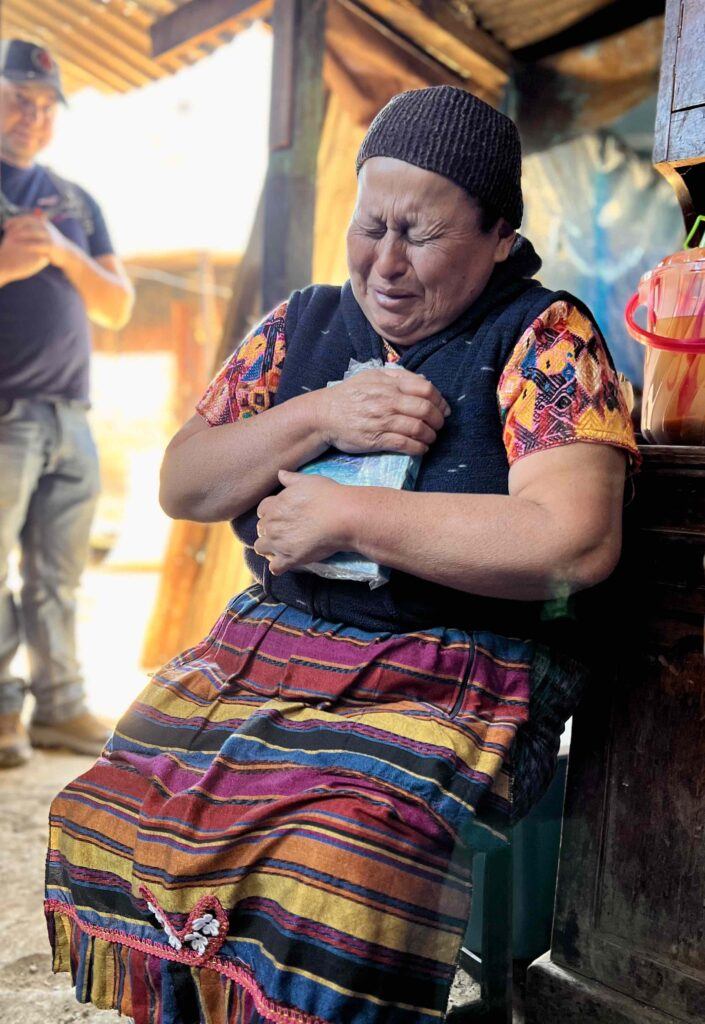 This is absolutely my favorite part of the trip.  Period!  There is no way I could walk into someone's home in America and talk about the things we do in Guatemala.  In America, we rarely tell others of our true needs.  We certainly would never allow someone to ask deep spiritual questions about the problems we are facing in our families and in our own hearts.  We keep walls high.  It's only after catastrophe occurs that we reach out.  Oh, the pain and despair that could be taken away in America if we spoke with the honesty of the people in Guatemala.  They are aware of their desperate need of help.  When we come to help them by giving food or a stove, they are usually willing to talk more openly about their hearts.  The brokenness in their lives has allowed them to share their deepest thoughts.  I'm not saying it's always easy.  It takes a lot of questions.  It takes perseverance in searching for the right words.  But, with the Holy Spirit guiding the conversations, and bringing words and examples to mind, a depth comes to what we discuss, and oftentimes, healing comes to their hearts.  I could spend each day walking around Guatemala doing these visits. I always come home wishing I knew more Spanish.  I do learn more words every year.  I truly do need to learn more.  Maybe it's a cop-out, but there is also something good about me not really speaking Spanish well.  When we go into the home visits, I feel a freedom to say things in a blunt way, getting straight to the point.  Because Ben then must translate it, he can be sensitive to the cultural differences and word it in a way that is appropriate.  I know there are many times he doesn't say exactly what I say.  But, he is always faithful to get the point of what I intend.  It's not "good cop-bad cop", but there is a synergy that happens in what the Lord brings to our minds.  My goal is always to help Ben and Emily get the conversation to where God needs it to be.  Like water seeking a path, the Spirit directs our hearts and mouths to bring glory to God by either encouraging those who already love Him or leading those who don't yet know him into an eternal relationship with the One who created them.  Just like people in America, I truly believe it's not necessarily that people don't want to believe in God, they have just never been told in the right way.  We have come to such a place in this world that we are either so easily offended or too afraid to convict.  There are millions of people perishing without coming to know the Lord Jesus in the way each heart must choose.  The road to Heaven is not a group effort or collective process. Each person who walks planet earth must choose for themselves whether to accept or reject the forgiveness of the Father.  But, how can they know, unless someone tells them.  That's why I love home visits.  By the way, if you don't yet know the love and relationship I'm talking about, please let your walls down.  Please put whatever obstacles stand between you and God aside.  I'd love to tell you about Him.  You may not know it yet, but you were created for a purpose.  God has designed each one of us with a unique personality and skills.  I saw that in each man who was on this trip.  I want you to know this same thing in your own life.  We are all designed with the same ultimate goal, to bring God glory in everything we do.  How we accomplish that is different for each person.
Next few days
I've let the guys know if they have any closing thoughts to pass them along.  I'll post them below as they come in.  Please check back to read their insight.  Thank you for following our journey this week.  It is always encouraging to me to know you follow along and pray for us. Dios te Bendiga, Brad
Final Thoughts – Noah
Wow. Visiting Guatemala was my first time traveling out of country and it did NOT disappoint! What a beautiful country full of amazing and loving people. At times, it was heartbreaking. Examples include finding out a family only drank soda because purified water is too expensive, people sleeping on the dirt floor, people only eating twice a week, or people not having access to a wheel chair that works well. Even with all of the difficulties, every family we visited all had joy, hope, and laughter. My favorite moments from this trip have to be interacting with the kids! Showing kids how a gopro works, letting them look through my camera roll, giving them sweets and hot wheels cars, and playing soccer with them. I'd also like to shout-out Juanito and Danny for helping our team so much on the projects AND for helping me improve my Spanish!
Poems from Dave
Heaven is almost in our reach When rough cut Is cut into straight and level When cement And sheet metal Becomes a mansion When you answer the call And on a simple mission Your heart stumbles Over your tears You can be brought to a complete a stop Only to be moved To let yourself go and repurpose your heart Into love thy neighbor Sometimes surrender Is a favor From heaven And tender Is sacred ground Elevated Two inches above This broken world's dirt and dust I saw Christ's bloodline Today In the eyes of hope Built to live On the side of a mountain And at their table Is where I am happy To break bread and dine Oh Lord Let this house always stand On your living water….
Next
There's no clock On her wall It doesn't really matter though Time stands still When your every waking moment Is stained with hunger There's no room in her world For time anyway Hunger lingers Time is told Like a word of mouth Hand to mouth message Hunger lingers Only time will tell The deep down secrets A hungry woman Never forgets There's no clocks On her walls But hand written Bible verses are everywhere Hunger lingers here But Jesus is alive and well And his love Lingers here too If you ask Lucy for the time She'll happily reply Psalm 23 Gracias Padre